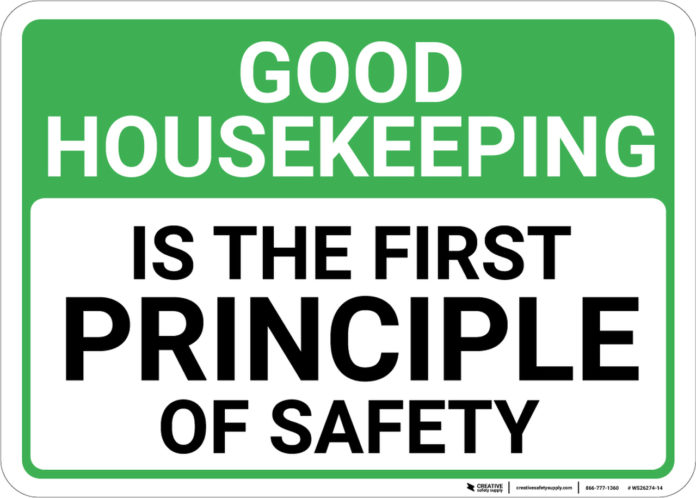 Summary by Kelsey Bingham and Krystofer Gardner
This month for our MPACT Safety training we focused on housekeeping. Housekeeping safety applies to both the office and the field and is helpful to avoid accidents and injuries. Below we have identified housekeeping safety applying to the corporate office, as well as construction sites.
Construction Site Housekeeping
Maintaining a clean jobsite is one of the best ways to avoid avoidable accidents. Here are a few points to review on your jobsite to help keep us safe:
General Site Cleanliness – pick up debris and keep pathways clear to reduce trips, slips, and falls. Stack lumber and other material properly, and keep them covered from the elements.
Access to Cleaning Materials – Garbage cans, brooms, and dust pans should be always available and accessible to increase use .
Cords and Hoses – Cords and hoses should be continually inspected to make sure they are free of damage. If needed replace them immediately as wet weather can increase electrocution chances. Also make sure all tools are properly wired to mitigate changes of other electrical issues. 
Snow Removal – Be sure to create a snow removal plan that includes tools, plans for keeping employees warm and heated and overall protection.
Temporary Heating – Be safe with temporary heating to avoid fire or ventilation problems.
Winter Vehicle Safety
Be sure to check your vehicles tires, and check that you have jumper cables and tow straps. Overall to be sure to drive safely, cautiously and to slow down. 
Corporate Office Safety
In preparation for an emergency, review the evacuation plan and emergency office map. In the event of an emergency there are two egress points (the stairs and the southwest office). The upstairs southwest office has a ladder and glass breaker if the stairs are inaccessible. Downstairs there are three egress points (the front office door, the door in the training room, and the door next to the bathrooms). Below is a map that shows the office layout with marked egress points, and fire extinguishers.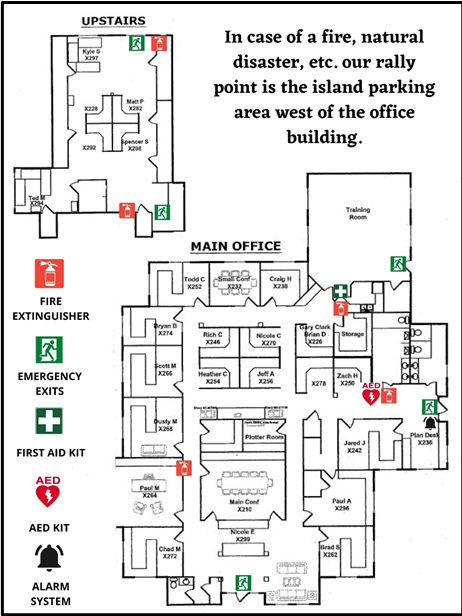 Additionally, in the month of November, the office will be holding AED training. 
GREAT CATCH OF THE MONTH
Blair Hill was the Great Catch of the month for his proactive approach to fall protection in an exposed stairway. Great work Blair!