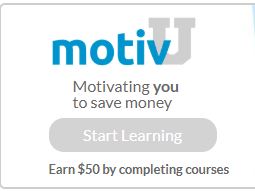 MotivHealth has taken a very cool approach in helping you understand how their programs help you. MotivHealth believes that "Smarter members save money" so they've put together MotivU. It's a 5 course program that could earn you AND your spouse $50 each!
Courses
When you or your spouse complete each course and take the short quiz after each, Motiv will deposit the amounts below into your HSA.
Course 1: MotiveHealth Welcome = $5.00
Course 2: Health Insurance 101 = $5.00
Course 3: Health Savings Accounts = $10.00
Course 4: Member Programs = $10.00
Course 5: Recap = $20.00
Completion
You can complete the courses at any time and at your own pace. Each course has a short 1-5 minute video lesson. Or, if you prefer to learn by reading, you can find the written information below each video.
At the end of each course section there is a short quiz to check your understanding. Be sure to pay attention because you have to score 100% on the quizzes before moving forward.
You have the ability, just like on YouTube, to change the speed at which you listen to the video. Here's to 2X, lol.
Watch This
This video explains more about MotivU and the $50 incentive.
Start Today
Log in to your MotivHealth account at www.motivhealth.com and click the MotivU link at the top right or the MotivU image in the middle of the page to start earning.