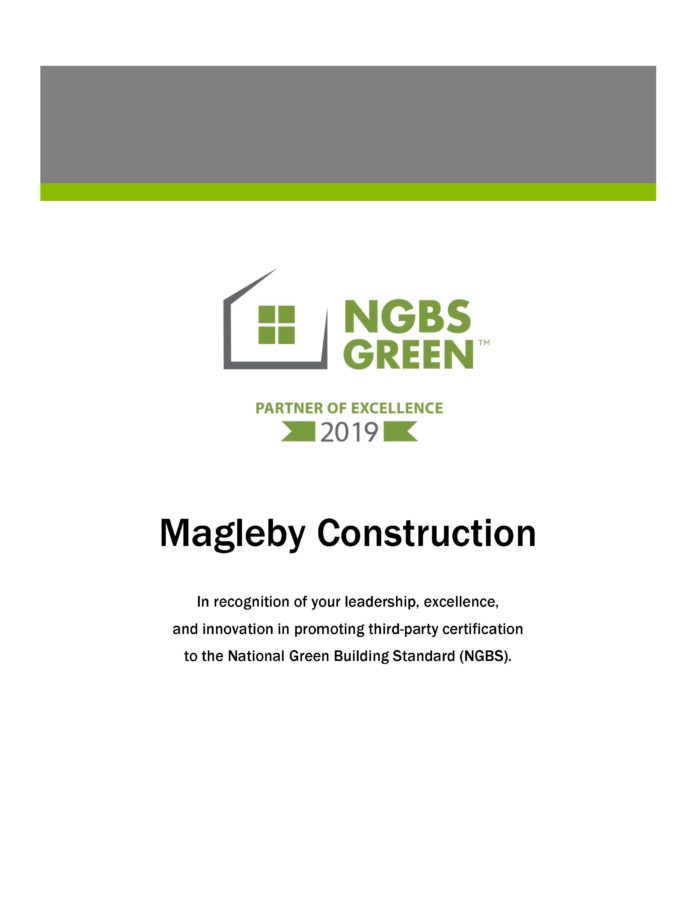 For years Magleby Construction has been committed to sustainable building practices.  We invest in training and educating our team on the latest Green Build solutions and encourage our clients to invest in processes, assemblies and systems that will contribute to long-standing, high-performance homes.  We are honored that our work was again recently recognized as we were named one of only 60 "National Green Building Standard's Partners of Excellence."
NGBS Green Partner of Excellence
The National Green Building Standard's Partner of Excellence recognizes builders and verifiers for their contribution and commitment to advancing green building in their communities and commitment to voluntary, market-driven, third-party certification of high-performance homes.
The Announcement
We receive the following from Michelle Foster, Vice President Sustainability, Home Innovation Research Labs:
---
Dear NGBS Green Partner:
Congratulations! Your company has been selected as a 2019 NGBS Green Partner of Excellence! This is an annual recognition program of Home Innovation Research Labs that highlights an elite group of NGBS Green Partners who demonstrate sustained excellence and leadership in the green building arena, and unwavering commitment to high-performance, third-party certified homes and buildings. Your expertise, dedication, and willingness to advocate for the National Green Building Standard (NGBS) has made NGBS Green a stronger, more successful program.
Each year, as we look back to determine which of our Partners made the most impact in our NGBS Green program and the industry at large, it's rewarding to see how much has been accomplished. This year, on the heels of our 10th year of NGBS Green certification and recent release of the 2020 NGBS, we decided to sharpen our pencils and recognize our most exceptional NGBS Green Partners; the best of the best. We made our list, checked it twice … and then check and revised it a few more times … and finally came up with a list of 20 Single-Family and 20 Multifamily builder/developer partners worthy of special praise, as well as 20 NGBS Green Verifiers. This was no easy task. There are A LOT of extraordinary individuals and companies that make up our NGBS Green universe. The fact that your company "made the cut" is a true testament to the contribution you've made.
Overall, 2019 was pretty terrific for NGBS Green. Consider these highlights:
We celebrated our 200,000th NGBS Green Certified home – up 50,000 certified homes from just one year before.
Registered projects reached (and remain at) an all-time high, even with the fast and furious pace of certification activity noted above! Over 5,300 single-family homes and over 144,000 apartments are currently registered to earn NGBS Green certification.
Development of the 2020 NGBS was completed and this revision is epic – with an expanded scope, new certification path for single-family homes and the commercial spaces of mixed-use buildings, and a completely revamped chapter for renovation.
More affordable homes were certified than ever as NGBS Green is increasingly recognized or incentivized in low-income housing tax credit programs nationwide.
Thanks to the 2015 NGBS Tropical Path requirements, NGBS Green has now certified projects in the U.S. Virgin Islands and we have lots of projects in Puerto Rico seeking certification, as well.
And, NGBS Green compliance became an option for projects seeking to demonstrate eligibility for HUD financing – so we can now look forward to NGBS Green Partners (like you!) helping to ensure homes rebuilt in areas affected by recent natural disasters are greener and more sustainable.
Looking back is fun. But looking forward is even more exciting. With the launch of the 2020 NGBS comes a host of new opportunities to promote stringent yet practical green design and construction. If you haven't had a chance yet, be sure to listen to the webinar we recorded that details all the changes in the new version; let us know if you have any questions.
Your certificate of recognition is attached. We regret being unable to mail you a hard copy – as our offices remain closed and the majority of our staff continues to work from home due to COVID-19 for the foreseeable future, we did not want to delay delivering your award any longer. Early next week, you'll receive a follow-up email with instructions on accessing logos and other marketing materials, but the news release with the full list of winners is now live* on our website and we encourage you to link to it and share the good news with your audience.
Congratulations again on your 2019 NGBS Green Partner of Excellence recognition! It is just a small token to thank you for your sustained and meaningful support of our program. I look forward to continuing to work with you in the future, and hope NGBS Green can help you build upon your success in the market while we all continue to build a more sustainable future.